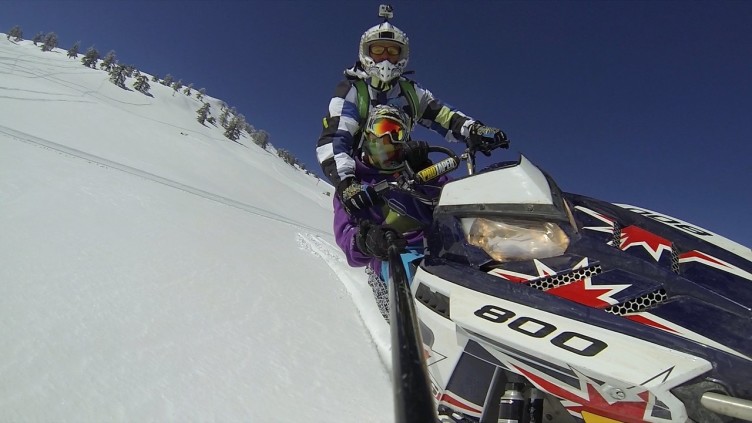 Inventing the mountain!
Snowmobiling as a sport is especially popular in the US and Canada and some countries of Europe. In Greece the sport is on its very early stages and we know little about it. Most of us have seen snowmobiles in skiing resorts being driven by the staff for utility or emergency purposes. In some resorts it is possible to rent a snowmobile in order to ride it around a pre-determined trail.
Snowmobiling began almost a century ago, not as hobby but as a means of transportation on snow. It wasn't until 1960 that mass production began with models as the Bombardier Ski-Doo, Polaris Sno Traveler and Evinrude Skeeter. Those early models had a weight of ~450kg and an engine of less than 10hp. (i.e. 45kg/hp). Today's models, weigh ~200kg with engines exceeding 160hp (i.e. 1,25kg/hp). This enormous difference in the fraction of weight and power allows the snowmobiles to move in a way totally different from the past.
Today's riding style resembles riding a motocross bike instead of a heavy difficult to maneuver vehicle. Snowmobile technology is constantly being developed, and their abilities are improving. Almost every season is accompanied with new advanced models, with several improvements compared to the previous season's models. Among the biggest manufacturers are Bombardier (Ski-Doo), Polaris, Yamaha and Arctic Cat.
There are 3 different types of snowmobiles:
Trail: Used for hard packed snow and ice. They are equipped with a wide track and short lugs. The wide track provides lateral stability and the short lugs better grip on hard snow. Usually they are accompanied by comfort options such as an electric starter and seats with back support. The length (development) of the track is usually from 120″ to 130″ inches. This type includes Aggressive Trail Snowmobiles which are also used in Snocross racing (as in Motocross) and Freestyle (jumping).
Mountain: Used for deep soft snow. They are equipped with a narrow track and tall lugs. The narrow track allows easy tilting of the snowmobile, a technique that is necessary for steering on soft snow. The tall lugs are able to move lots of snow providing the necessary propulsion. The length (development) of the track is usually from 140″ to 160″ inches. The increased length provides a larger snow surface contact area, and hence a greater lifting force for not getting stuck on soft snow.
Crossover: This is a mix between the Trail and Mountain types. They are equipped with a medium width track and medium height lugs. These properties allow them to move equally well on hard and soft snow. The length (development) of the track is usually from 130″ to 140″ inches.
Snowmobiles employ 2-stroke or 4-stroke engines. Standard unmodified 2-stroke engines go up to 800cc, while 4-strokes usually go up to 1100cc with turbo or without.  Each engine type has its positives and negatives. The 4-stroke engines have lower fuel consumption, lower fuel emissions, and produce less noise. 2-stroke engines require the addition of mix oil but are lighter and usually with a better fraction of weight and power. The fraction of weight over power is a decisive factor in certain types of riding. Other than that, like in motocross bikes, the choice is usually personal preference.
Power is delivered through a system of continuously variable transmission (CVT) similar to those we see in Scooters and ATVs. It consists of 2 pulleys connected with a drive belt. The primary pulley is connected to the engine while the secondary is connected to the track usually though a chain-case gearbox. This system allows increased starting torque without sacrificing maximum speed and without the need to manually change gears.
The mountain, like most of us know, is full of dangers. Snowmobiling will likely force you to confront those dangers and can put you and your friends in extremely dangerous situations. In a very short amount of time you can find yourself many miles from the nearest road, and in remote areas without the possibility to communicate. Therefore it is obligatory to follow strict safety guidelines.
We prefer to always ride with a partner – with 2 snowmobiles if possible – and we make sure that somebody else knows where we are going and what time we are supposed to get back. Food and water must always be in our backpack regardless of the distance we intend to travel. We must carry with us a spare drive belt, spare spark plugs, some basic tools, the owner's manual, and a second key. All these can be stored in the snowmobile without us having to carry it.
We prefer to wear technical clothing that allows the moisture to escape while keeping us warm. When the snowmobile is moving fast the cold becomes very noticeable due to the wind chill factor. Although there are snowmobile specific boots, we can also use snowboard or even climbing ski boots (fixed flex skiing boots are not suitable for driving). We must also carry in our backpack a second pair of gloves and socks.
Vitally important for us but also for our co-rider is an approved full face helmet, body armor and kneed pads. Skipping this equipment should never happen. Rocks, obstacles (hidden or visible) and trees can seriously hurt us, even at slow speed.
Especially for mountain riding, 2 snowmobiles are obligatory, and both riders must be equipped with avalanche rescue gear (transceiver, shovel, and probe). The weight of the snowmobile can easily trigger an avalanche. No matter how tempting a slope might be, we must first assess the danger before riding it. A backpack airbag is also recommended.  The shovel, apart from an avalanche scenario, is also necessary for getting our snowmobile unstuck from soft snow.
Some popular snowmobile destinations in Greece are:
Parnassos: One of the biggest mountains in Balkans (Southeast Europe) and birthplace of Whitecast.gr! Parnassos is ideally suited for mountain riding. This takes place above the altitude of the ski resort. There are plenty of areas to visit, but accessing them is not easy keeping in mind that getting near the ski resort is forbidden. There are as many as 3 different snowmobile rental businesses operating at different places on the mountain. The trails are not lengthy but are fun to ride.
Metsovo (Anilio): Probably this is where you are most likely to see other snowmobiles. This place offers big alpine flats, lengthy trails, and average steepness slopes. It is good for trail as well as mountain riding. Accessibility is very fast through Egnatia Odos (National Road) and the sport is generally accepted well by the locals. In the ski resort of Anilio it is possible to rent a snowmobile and have a guided tour.
Ziria: Suitable for both trail and mountain riding. The mountain has a very small ski resort but with very hospitable staff. At the base of the resort there is a snowmobile rental business offering guided tours. Due to the low altitude, when the snow conditions allow it the trail going around the mountain is an unforgettable experience.
3-5 Pigadia: Like Ziria, this destination is exceptional for snowmobiling. There are plenty of trails as well as very large alpine flats on top of the mountain, above the ski resort, that is great for mountain riding. At the base of the resort there is a snowmobile rental business offering guided tours.
Kalavryta: At the ski resort base there is a snowmobile rental business offering guided tours at the flat behind the ski resort. This flat has many trails and easy slopes for beginners. Unfortunately its low altitude limits the duration of the season.  The mountain has offer limited mountain riding. Steep slopes, difficultly accessible areas, and many trees make it a difficult destination for mountain riding.
Legislation: In Greece there is no legislation governing the use of snowmobile or the necessary qualifications for their operators. With the absence of the 3 usual prerequisites license/registration/insurance, one must be ready to encounter anything at the trail or the mountain!
In the US and Canada every state/province has its own legislation for snowmobiling. Like driving on roads, riding on a trail is done on the right side of the trail. The speed limit is usually set at 80km/h. A web search for "snowmobile regulations" should provide more information.
Riding a snowmobile in a ski resort slope is dangerous and should be avoided. It is forbidden by all ski resorts. In rare cases, when crossing a slope cannot be avoided, this can be done after being granted the permission and escort from the ski resort's staff.
Even though Greek mountains are suitable for mountain riding, this type of riding is totally unknown. Mountain riding gives you access to the entire mountain, and to areas that you would never see unless you were a climber/hiker.
Mountain riding can be done with one ore two people simultaneously on the snowmobile. In the case of two people the co-rider sits in front, and the rider behind, always standing and hugging the co-rider (squirrel style). When both riders are experienced, they might stand on the sides of the snowmobile (tandem style), with one rider handling the throttle and the other the brake.
Carrying equipment for freeride Ski and Snowboard can be done with the use of a special gear rack placed at the back of the snowmobile. Alternatively the Skis/Snowboard can be carried horizontally at the side of the snowmobile and under the rider's legs.
Riding the mountain at night, although magical, can prove very dangerous. The way back is found by following snowmobile tracks. If snow and wind erase the tracks, getting back becomes challenging.
The most common problem with mountain riding is getting stuck. In deep snow the snowmobile moves forward by pushing snow to the back. When we try to accelerate the track digs in the snow and the snowmobile begins to sink. If we can't pickup speed fast then we will end up stuck deep within a snow trench. Usually we get out by doing a ski pull. In a ski pull, one person aids by pulling the ski, while the other is accelerating and pushing with his hands. Another way to getting unstuck is rolling the snowmobile. In rolling, we pull the snowmobile to its side until it completes a full rotation essentially getting out of the trench.
On hard packed snow (trails) the snowmobile remains level and turns using the steering wheel. On soft snow turning is done by leaning the snowmobile to the sides.
One can make his/her first steps in the sport of snowmobiling by renting a snowmobile and following some lessons. Whitecast.gr is the first and only snowmobile team in Greece. We hope that you make your first steps with us and we look forward to meeting you!